More than a week has passed since Israel's new aggression against Gaza and even though dozens of Palestinian women and children have been killed so far, all the US government has done is condemning Palestine's actions in self-defense.
Palestinian militants groups have indeed fired hundreds of missiles into Israel daily since the new clashes began. However, Israel's airstrikes and shellings against civilian targets in Gaza has already taken the death toll to over 100 people. So far, seven deaths have been reported in Israel as a result of Palestinian attacks.
The US state department said that the Palestinian rockets are "clearly targeting innocent civilians in Israel." The statement, however, didn't address the Israeli attacks that have already been labeled by some rights groups as "potential war crimes."
President Joe Biden also refused to go further than saying "Israel has a right to defend itself" during his Wednesday phone call with Israeli Prime Minister Benjamin Netanyahu.
Outraged by Washington's stance, Representative Mark Pocan, a Wisconsin Democrat who is the former cochair of the Congressional Progressive Caucus, declared, "We cannot just condemn rockets fired by Hamas and ignore Israel's state-sanctioned police violence against Palestinians—including unlawful evictions, violent attacks on protestors and the murder of Palestinian children. U.S. aid should not be funding this violence."
Rep. Ilhan Omar, the Minnesota Democrat who four years ago became one of the first two Muslim women elected to Congress, has also fiercely crticized President Joe Biden's refusal to rebuke Israel's conduct.
"This unsurprising response is devoid of empathy and concern for human suffering," said Omar. "He can't even condemn the killing of children."
"Israeli air strikes killing civilians in Gaza is an act of terrorism. Palestinians deserve protection. Unlike Israel, missile defense programs, such as Iron Dome, don't exist to protect Palestinian civilians. It's unconscionable to not condemn these attacks on the week of Eid," she said referring to the Muslim festivities at the end of the holy month of Ramadan.
Rep. Rashida Tlaib, an American- Palestinian Muslim member of Congress, also echoed Omar, slamming Israel's "apartheid" policies.
"This is an apartheid system.… Israeli's own prominent human rights organization B'Tselem has declared it, Human Rights Watch has declared it, and Palestinians on the ground have been telling us for decades that their homes have been demolished, that they have been targeted, that violence has been met by Israeli-led forces under Netanyahu's racist policies," she told MSNBC.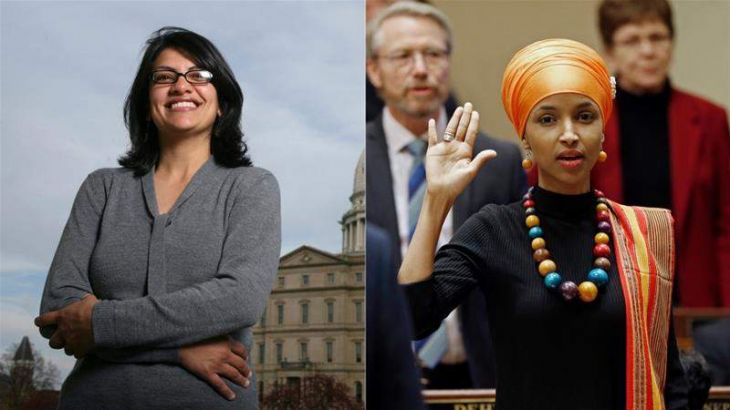 Citing a UN ruling that has condemned Israel's move to force Palestinians out of their ancestoral homes in East Jerusalem's Sheikh Jarrah region, some senators have also condemned Israel.
Maryland Senator Chris Van Hollen said: "As this makes clear, evictions of families in East Jerusalem would violate international law. If the Biden Administration puts the rule of law and human rights at the heart of its foreign policy, this is not a moment for tepid statements."
Massachusetts Senator Elizabeth Warren condemned the evictions as "abhorrent and unacceptable," and said, "The Administration should make clear to the Israeli government that these evictions are illegal."
Vermont Senator Bernie Sanders decried "the violence by government-allied Israeli extremists in East Jerusalem and the West Bank."
Democrat Betsy McCollum, another Minnesota representative, said: "The Israeli government's attacks on the basic human rights of Palestinians has led to this conflict. I want each Israeli child and Palestinian child to sleep in their own bed peacefully at night, not worrying about being attacked. The violence must stop.… The only way to bring peace forward is for the U.S. to stand up for everyone's human rights—and that includes Palestinian rights."
Trump defends Israel, attacks Omar
Omar's fierce criticism of Washington drew fire form former President Donald Trump, who also took a jab a Biden for not giving Israel his full support.
"Biden's weakness and lack of support for Israel is leading to new attacks on our allies," Trump said.
"Unbelievably, Democrats also continue to stand by crazed, anti-American Rep. Ilhan Omar, and others, who savagely attack Israel while they are under terrorist attack," he added.
Pocan and other have condemned Trump's reposne and accused him of "xenophobia" for directing his attacks at Omar, even though many other lawmakers have made similar statements again Israel.