Pro-Palestinian protesters have taken to the streets of Los Angeles, New York, Boston, Philadelphia, Atlanta and other U.S. cities calling on the international community to take action and stop ongoing Israeli aggression against the Palestinian people.
Thousands of people closed down a major thoroughfare in west Los Angeles and marched for two straight miles to reach the Israeli consulate, while carrying signs that said "free Palestine" and chanting "long live intifada," or uprising in Arabic.
Another protest started in a neighborhood in Brooklyn, New York, which houses a large Arabic-speaking community. The march took several hours on Saturday afternoon and the crowd blocked traffic on several occasions.
Bella Hadid, a well-known Palestinian-American model, also participated in the Brooklyn protest.
Meanwhile, hundreds of pro-Palestinian demonstrators assembled downtown to wave similar signs and shout the same slogans.
One sign that took a lot of attention read, "We can't breathe since 1948" mixing the issue of Israeli atrocities with the ongoing racial justice movement in the U.S, the Black Lives Matter.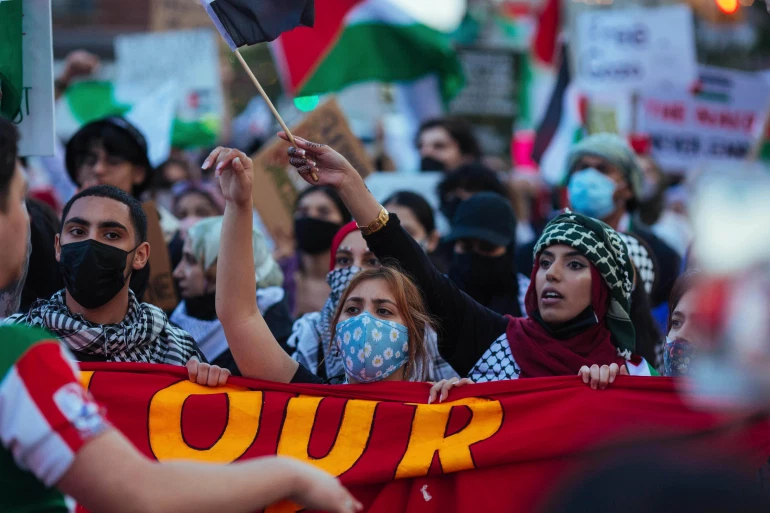 In San Francisco, a large crowd chanted "Palestine will be free" as it marched across the Mission district to Dolores Park.
In Boston, protesters walked a short distance from Copley Square to the Israeli Consulate for New England and blocked traffic, according to the AP.
The protesters unfurled a large banner in the colors of the Palestinian flag with the words "Free Palestine" while standing in front of the consulate.
In Washington, thousands of protesters gathered at the Washington Monument and marched to the National Archives. In Philadelphia, demonstrators gathered at Rittenhouse Square to condemn U.S. support for Israel.
In Pittsburgh, one of the speakers at a rally called on Congress to put certain limits on how Israel can spend aid from the United States.
The protests came on the 5th day of a renewed Israeli bpmbing campaign against Palestinians in Gaza and East Jerusalem.
The mayhem has killed at least 145 Palestinians in Gaza. Retaliatory rocket attacks by Palestinian militias has killed at least eight people on the Israeli side of the border.