Human rights advocacy groups have warned that Israeli airstrikes against apartment buildings in the Gaza Strip could amount to war crimes.
Amnesty International and Human Rights Watch, which has recently condemned Israel's "apartheid" policies, both think the recent escalation of hostilities in the region does in no way justify endangering civilian lives.
"Deliberate targeting of civilian objects and extensive, unjustified destruction of property are war crimes," said Saleh Higazi, deputy director for the Middle East and North Africa at Amnesty International. "Destroying entire multi-storey homes making tens of families homeless amounts to collective punishment of the Palestinian population and is a breach of international law."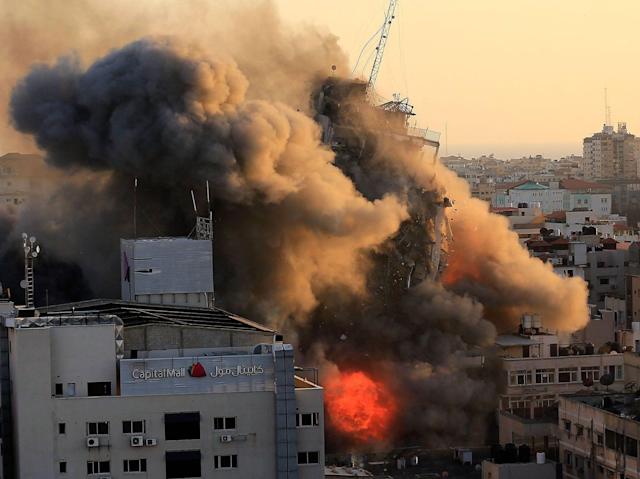 Israeli officials insist that the buildings are being used by Hamas militants to launch rockets at Israeli cities. They also claim that civilians are being asked to evacuate beforehand.
Higazi, however, said even if that is the case Israel should opt for safer options that minimize the chance of civilian casualties.
He also noted that the ongoing Israeli aggression over the past days is "reminiscent of horrific hostilities from 2008, 2012, and 2014 where civilians bore the brunt of the suffering, with massive death and destruction in Gaza, which has been under an illegal blockade amounting to collective punishment since 2007."
"Israel has a deplorable record of carrying out unlawful attacks in Gaza killing and injuring civilians including war crimes and crimes against humanity," Higazi said. "Palestinian armed groups have also committed violations of international humanitarian law with impunity."
She also accused Palestinian militias of committing war crimes by firing "missiles that cannot be accurately aimed" at civilian targets inside Israel.
Human Rights Watch has also accused both sides of committing potential war crimes.
It has also documented the "regular use of excessive and vastly disproportionate force by Israeli authorities," including "deliberately targeting civilians or civilian infrastructure," over the past decade and even before, according to Omar Shakir, the Israel and Palestine director at organization.
Similarly, B'Tselem, a leading Israeli human rights group, also condemned the Israeli side for targeting buildings.
"Bombing apartment towers, which are not a military target and leaving dozens of families homeless, is a war crime," the group wrote in a tweet.
The International Criminal Court has warned that it is monitoring the fighting for potential war crimes while also investigating other conflicts of the past between the two sides.
As of Thursday evening, the death toll from the latest flare-up of tensions has risen to 103 Palestinians, including 27 children and 11 women, Gaza's health ministry said. Seven Israelis have been killed, including a soldier and a child.